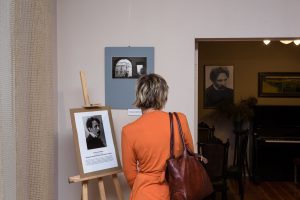 Opened in Vilnius on 22 September 1995 (on the 120th anniversary of the birth of M. K. Čiurlionis), the M. K. Čiurlionis House is a memorial cultural centre, a historic building in the Old Town of Vilnius, where the genius of the Lithuanian nation, composer and painter Mikalojus Konstantinas Čiurlionis (1875–1911) lived and worked in 1907 to 1908. The room that Čiurlionis rented displays family, friends and colleagues photographs of the artist and a C. Bechstein piano from his time. The interior of the room and other premises in the House has been designed basing on the furniture models of the time. The room's exposition is complemented by an audio guide to Čiurlionis House. The guide provides audio, textual and visual information about Čiurlionis' music and art studies, the beginning of his creative career, the story of Čiurlionis' and Sofija's acquaintance and love, the Wolman family, and memories of his contemporaries. Other areas of the Čiurlionis House, demonstrating high-quality reproductions of Čiurlionis' artworks, hold exhibitions and various cultural, educational and artistic activities, as well as chamber music concerts.
The educational programs offered at the Čiurlionis House focus on nurturing creativity and finding connections between differing forms of artistic expression. Our wide range of programs are attended by preschoolers to senior citizens. Talented young music and art students who are just beginning their journey towards the big stage are frequent visitors in this house. Some of our exhibitions explore the environment in which Čiurlionis created and others show works that have been inspired by his creative legacy. The concerts that take place here also reflect Čiurlionis' heritage and his goal of being able to experience music as a living, constantly changing form of creativity that provides many spiritual insights.
Čiurlionis' legacy is especially relevant at our cultural evenings when we have book presentations, movie screenings and discussion panels. Our sightseeing tours in Vilnius stop at the places where Čiurlionis performed concerts and rehearsed with the Lithuanian choir and where exhibitions of his paintings took place. 
The Čiurlionis House works closely with the M. K. Čiurlionis Route, which lets you follow in the footsteps of the artist along seven cities in Lithuania. The Čiurlionis House has played a leading role in creating cultural programs along this route.
In 2018 to 2020, the M. K. Čiurlionis House Choir was active and performed concerts. The founder of M. K. Čiurlionis House is Vilnius City Municipality.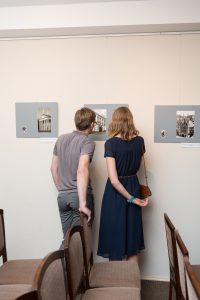 Mission:
Our aim is to make M. K. Čiurlionis House a modern social centre, as well as a place for informal learning, education and leisure culture, including the accumulation, dissemination and realisation of ideas, developing lifelong learning opportunities and cultivating the spiritual culture of society. We seek this by organising and carrying out cultural, educational, social, leisure and other events, among them educational and socio-cultural programmes.
Aims of our activity are the following:
to represent Lithuanian culture and disseminate information about the life and creative legacy of M. K. Čiurlionis to the citizens of Lithuania and other countries;
to participate in various programmes and projects related to the name of M.K. Čiurlionis and beyond;
to organise and carry out cultural, educational, social and leisure events, including educational and socio-cultural programmes.
Areas of our activity:
Researching the life and work of M. K. Čiurlionis, including collecting historiographical material related to him and his era;
collecting and disseminating information on today's cultural life related to the name of M.K. Čiurlionis;
organising events such as thematic evenings, concerts, scientific conferences, exhibitions, book presentations and other social gatherings;
our educational activities include keeping contacts with music schools, among them the National M.K. Čiurlionis School of Arts, the Lithuanian Academy of Music and Theatre, and the Vilnius Academy of Arts, encouraging interest in the Lithuanian national revival of the early 20th century and the activities of Lithuanian professional art and music creators in Vilnius;
carrying out cultural programmes and projects in cooperation with the Čiurlionis Society;
contributing to organising and holding anniversary events dedicated to M.K. Čiurlionis;
maintaining contacts with similar cultural centres in Lithuania and other countries;
presenting the work of M.K. Čiurlionis in other countries by organising exhibitions, concerts and lectures.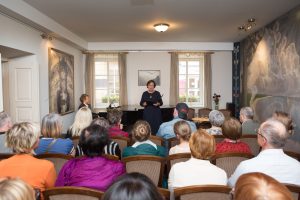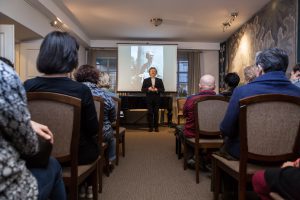 We provide the following paid services:
Tickets available HERE.
Educational programmes for groups of individuals;
musical programme in the form of a concert dedicated to the works of M.K. Čiurlionis (in Lithuanian, English and Russian);
organisation of an event for a group of individuals;
excursions to M. K. Čiurlionis House for groups of individuals.
If you would like to book an event, concert, excursion or educational activity at M. K. Čiurlionis House, please contact us at mkc.namai@gmail.com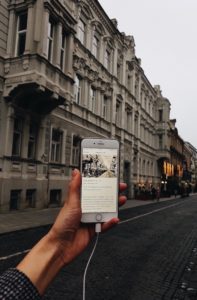 Visiting M. K. Čiurlionis House is free of charge.
For those who would like to experience the spirit of the city on their own, the Čiurlionis House has created an app "Čiurlionio Vilnius", which is downloadable free of charge from the Google Play and App Store. Search for "Čiurlionis in Vilnius". Add Čiurlionis-like experiences to your usual walking routes and discover the history behind Vilnius: when, where and why did Čiurlionis pay visits? What did the city look like in Čiurlionis' eyes, and what does it look like nowadays? Did you know that there are three Čiurlionis-related sites in the capital's Vilnius Street alone?
Connect with us:
Facebook | Instragram | Youtube